GREETINGS FROM THE RECTOR - UPS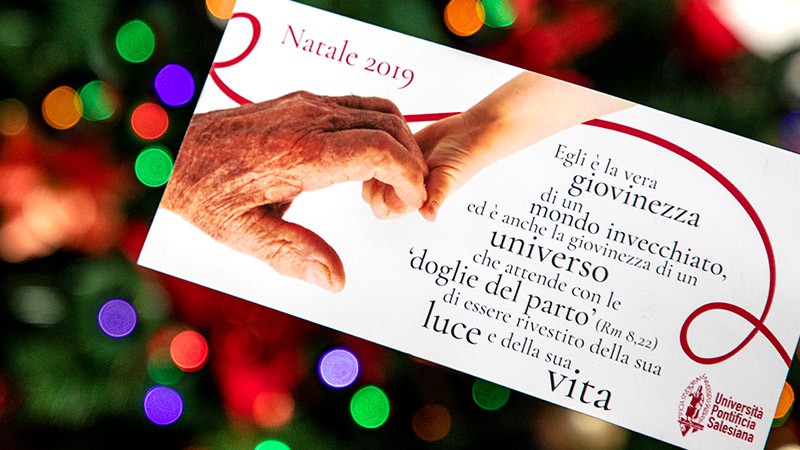 Christmas: Attestation of the presence of God with us Jesus is the true Youth of an Aged World

Dear teachers, students, collaborators of the technical-administrative and library staff, past pupils, benefactors and friends of the UPS,
To all of you and your loved ones the most cordial wishes for a Merry Christmas and a peaceful and fruitful New Year!
The year 2020 will see the "stroke" of the 80th birthday of our Institution: an occasion - in the year in which The Renewed Statutes and the Relative Order of Studies will come into force - to "remember" and "treasure" the journey since realized here, and look with commitment to the future of the UPS and its service to the Salesian Congregation, the Church and Society.
Christmas is the attestation of the presence of the "God with us": Pope Francis in Christus Vivit wanted to remind us that Jesus "is true youth", and that we all need to be "clothed in his light and his life". For those who, like us, care about education and everything related to youth, "this most delicate and most precious portion of human society" (Don Bosco), is the time to reaffirm - integrating the knowledge of head, heart and hands - our adherence to the fascinating appeal to "train mature people, capable of overcoming fragmentation and opposition and rebuilding the fabric of relationships for a more fraternal humanity", to "cultivate the dream of a humanism together supportive, responding to man's expectations and God's plan "(Message for the launch of the"Global Educational Pact ").

Best wishes, with esteem, friendship and gratitude!
Don Mauro Mantovani
Rector
Salesian Pontifical University, Rome.
19th December 2019.